Minnesotans Were Not Deterred By Blocked Roads When Bush Came To Town
Kathlyn Stone -- World News Trust
Aug. 28, 2006 -- George W. Bush was in Minnesota Tues., Aug. 22, fundraising for a Republican candidate for the 6th Congressional seat. Roger Cuthbertson, a Minneapolis member of Veterans for Peace and protest organizer, rented a 10-foot pontoon boat for the event and was joined by others in pontoons, sail boats, and bass boats. Knowing roads leading to the lake would be blocked, Cuthbertson said a boat protest "just makes sense."
The fundraiser was held at a $12.5 million home on Lake Minnetonka in the tony town of Wayzata, which is 40 miles away from candidate Michele Bachmann's home district.
It was a peaceful protest and there were no arrests.
On June 26, Cuthbertson and VFP colleague Robert Heberle were cited for being a public nuisance when they launched rafts from their pontoon boat and tried to paddle to the shore of Lake Minnetonka to speak to Dick Cheney who was headlining a fundraiser for Bachman. The men were stopped by a sheriff's boat, taken to a police station and released.
Residents of tiny Wayzata, population 4,113, have already donated $1.2 million to the 2006 races, a quarter million more than the 373,000 residents of the City of Minneapolis, according to opensecrets.org, which tracks contributions by zipcode once they are filed with the Federal Election Commission.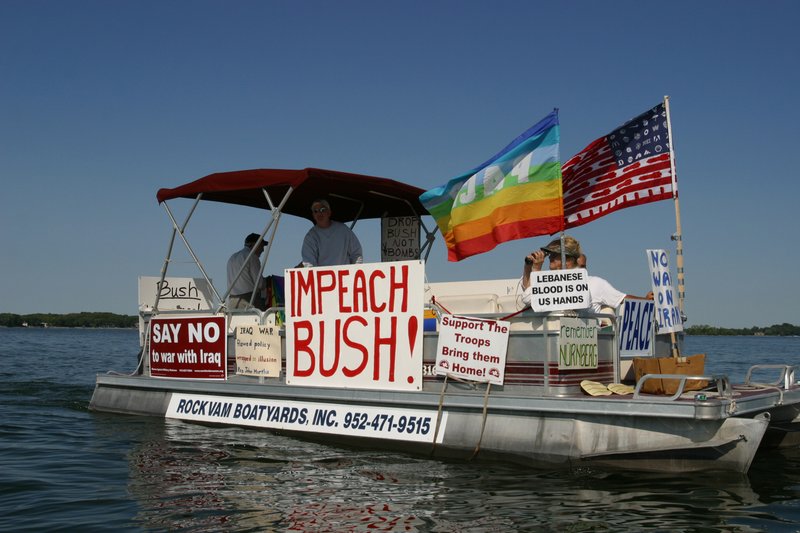 Roger Cuthbertson of Shorewood, MN, led a boat brigade of Bush protesters on Lake Minnetonka during a Bush fundraiser for Republican Congressional candidate Michele Bachmann. -- Photo by Robert Schlauch.
***
Kathlyn Stone is a Twin Cities, Minnesota-based writer covering science, health policy, the economy and international relations for general and professional audiences. She writes for neurology publications and independent media including World News Trust, Twin Cities Daily Planet, OpEdNews, Electronic Iraq, and The Pulse.